The Book of Revelation reveals who Jesus is to to feed our faith and not our fear.
Revelation Chapters 2 and 3 have 7 seven letters to seven churches from Jesus that give us insight into what Jesus sees when he looks at the church. These letters help us understand who we should be today.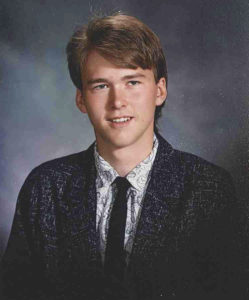 When I look at how much hair I had back in high school compared to my lack of hair today, I think, "Look at how far you've fallen!" The first letter to the church of Ephesus gives us a look at how one church fell away from their first love.
"Write this letter to the angel of the church in Ephesus. This is the message from the one who holds the seven stars in his right hand, the one who walks among the seven gold lampstands: 2 "I know all the things you do. I have seen your hard work and your patient endurance. I know you don't tolerate evil people. You have examined the claims of those who say they are apostles but are not. You have discovered they are liars. 3 You have patiently suffered for me without quitting.4 "But I have this complaint against you. You don't love me or each other as you did at first! 5 Look how far you have fallen! Turn back to me and do the works you did at first. If you don't repent, I will come and remove your lampstand from its place among the churches. 6 But this is in your favor: You hate the evil deeds of the Nicolaitans, just as I do.7 "Anyone with ears to hear must listen to the Spirit and understand what he is saying to the churches. To everyone who is victorious I will give fruit from the tree of life in the paradise of God. Revelation 2:1-7
The church is the people who are part of it, who have bought into the vision and strategy of the local church, who are doing life together by getting together regularly. Churches have their own personalities. Some are friendly, some aren't. Some are focused, others drift along. Some are outgoing, some look inward. Some are loud, some are quiet. Some cultures are healthy and some are even sick. A church's culture is a combination of the way they think, believe, and behave. The picture of Jesus walking among the 7 gold lampstands tells us that Jesus goes to church! He is intimately involved in the life of the church. And because Jesus goes to church, we should go to church too!
Jesus Compliments them for being:
A Serving Church. (2:2)
Jesus sees that they stepped up to serve. We love to serve because we know that "Saved People, Serve People."
A Solid Church. (2:2)
They were sound in their doctrine and believed the Bible to be completely true and trustworthy.
A Strong Church. (2:3)
This church was in the middle of a hostile culture and they faced persecution. Jesus said they were tenacious, and were willing to sacrifice and to go through hard things without giving up.
Jesus Challenges them for their Lack of Love. (4)
But I have this complaint against you. You don't love me or each other as you did at first!
They got all their beliefs right, they had their doctrine down, but they got their love wrong. And if you do it right, but you don't have love, you are doing it wrong.
If I could speak all the languages of earth and of angels, but didn't love others, I would only be a noisy gong or a clanging cymbal. 2 If I had the gift of prophecy, and if I understood all of God's secret plans and possessed all knowledge, and if I had such faith that I could move mountains, but didn't love others, I would be nothing. 3 If I gave everything I have to the poor and even sacrificed my body, I could boast about it; but if I didn't love others, I would have gained nothing. 1 Corinthians 13:1-3
You can give without loving, but you can't love with giving. Purity is a poor substitute for passion!
We need to have a Primary Passion for Jesus and for People.
Jesus said, "Your love for one another will prove to the world that you are my disciples." John 13:35
The Connection Church is a perfect place for imperfect people!
We love people because God loves people. You will not lock eyes with anyone this week that God doesn't love and Jesus didn't die for.
How do I Get Lit? (2:5)
Remember the warmth.
Look at how far you've fallen and remember when you first were saved, and you had a passion for Jesus and people.
Repent from my coldness.
Jesus says, "Turn back to me."
Repeat what I used to do.
Feelings follow actions. When you make time for God every day, you will find that you start looking forward to spending more time with God. You make church attendance a priority. You make serving on a ministry team a priority. You start giving faithfully and generously. You start intentionally inviting people to come to church with you. These are actions that will light your fire for God!
Jesus gives this incredible promise. (7)
When you are victorious, not based on being some super saint, but on staying faithful to our faithful God, He promises a great future both here and for eternity.
Has there ever been a time when I was closer to God than I am right now? If so, who moved? Come back to your first love!