Costume Party | Week 2

Have you ever had one of those moments where you'd give anything to go back and erase the past?
We have a Costume Party when we try to hide our sin from God and from people around us.
Repentance means "to change your mind," or "to change your direction."
"In the spring of the year, when kings normally go out to war, David sent Joab and the Israelite army to fight the Ammonites. They destroyed the Ammonite army and laid siege to the city of Rabbah. However, David stayed behind in Jerusalem. 2 Late one afternoon, after his midday rest, David got out of bed and was walking on the roof of the palace. As he looked out over the city, he noticed a woman of unusual beauty taking a bath. 3 He sent someone to find out who she was, and he was told, "She is Bathsheba, the daughter of Eliam and the wife of Uriah the Hittite." 4 Then David sent messengers to get her; and when she came to the palace, he slept with her. She had just completed the purification rites after having her menstrual period. Then she returned home. 5 Later, when Bathsheba discovered that she was pregnant, she sent David a message, saying, "I'm pregnant." 6 Then David sent word to Joab: "Send me Uriah the Hittite." So Joab sent him to David. (2 Samuel 11:1-6)
King David was where he wasn't supposed to be.
Then, he saw something he wasn't supposed to see.
Then, he did something he wasn't supposed to do.
That cost him more than he ever wanted to pay.
When I do something I shouldn't, I try to cover it up to hide my shame.
David's Plan A was to have Uriah sleep with his wife, Bathsheba. But he had too much integrity to do so while his men were on the battlefield.
Plan B was get Uriah drunk so he would be in the mood for some romance, but that didn't work.
Plan C was to send Uriah to the front lines of the battle so he'd be killed in battle. And that's what happened.
How do you cover up your sin?
Plan A is to delete the history on my phone, delete the text to the person I shouldn't be talking to, hide the candy wrappers or hide the cans and bottles of what I've been drinking.
Plan B is to lie; 'It wasn't me! I would never…!'
Plan C is to blame someone else if I get caught.
But the Lord was displeased with what David had done. (2 Samuel 11:27)
God isn't happy with David, and David is not happy with himself:
When I refused to confess my sin, my body wasted away, and I groaned all day long. (Psalm 32:3-4)
So God mercifully sent Nathan the Prophet to talk with David.
So the Lord sent Nathan the prophet to tell David this story: "There were two men in a certain town. One was rich, and one was poor. 2 The rich man owned a great many sheep and cattle. 3 The poor man owned nothing but one little lamb he had bought. He raised that little lamb, and it grew up with his children. It ate from the man's own plate and drank from his cup. He cuddled it in his arms like a baby daughter. 4 One day a guest arrived at the home of the rich man. But instead of killing an animal from his own flock or herd, he took the poor man's lamb and killed it and prepared it for his guest." 5 David was furious. "As surely as the Lord lives," he vowed, "any man who would do such a thing deserves to die! 6 He must repay four lambs to the poor man for the one he stole and for having no pity."
"If a man steals an ox or a sheep, and slaughters it or sells it, he shall restore five oxen for an ox and four sheep for a sheep." (Exodus 22:1)
David wants vengeance for the sheep killer. That's what happens when we see our own sin on someone else.
On me, my sin looks like it needs to be forgiven, but on someone else, my sin looks like it needs to be judged.
7 Then Nathan said to David, "You are that man! 12 You did it secretly, but I will make this happen to you openly in the sight of all Israel."
13 Then David confessed to Nathan, "I have sinned against the Lord." Nathan replied, "Yes, but the Lord has forgiven you, and you won't die for this sin. (2 Samuel 12:1-13)
David wrote about the process of uncovering his sin in Psalm 51:
Uncovering my sin shows me God's heart.
Have mercy on me, O God, because of your unfailing love.
Because of your great compassion, blot out the stain of my sins.
2 Wash me clean from my guilt. Purify me from my sin.
3 For I recognize my rebellion; it haunts me day and night.
4 Against you, and you alone, have I sinned; I have done what is evil in your sight. You will be proved right in what you say, and your judgment against me is just. Psalm 51:1-4
So now there is no condemnation for those who belong to Christ Jesus. (Romans 8:1)
When you come to God with repentance, God forgives you for the things you haven't been able to forgive yourself for and for what you think you can't be forgiven for.
Condemnation leads to guilt. Conviction leads to change.
When we sin, God's conviction leads us to repent and change.
Uncovering my sin shows me my part.
For I was born a sinner—yes, from the moment my mother conceived me.6  But you desire honesty from the womb, teaching me wisdom even there. 7 Purify me from my sins, and I will be clean; wash me, and I will be whiter than snow. 8 Oh, give me back my joy again; you have broken me—now let me rejoice. Psalm 51:5-9
When you keep on sinning, at first you might feel a little guilty about it, but the next time, not so much until you've become desensitized to it. We get so used to disobeying God that we get numb to Him.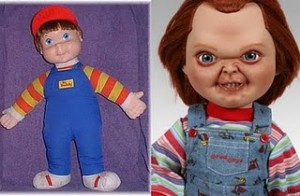 We don't take sin seriously because we think of our sin as our secret "My Buddy."
But we don't see that our Buddy is really Chucky, and he's planning on killing us in the middle of the night.
"If your right eye causes you to sin, poke it out and throw it away. It is better to lose one part of your body, than for your whole body to end up in hell. If your right hand causes you to sin, chop it off and throw it away! It is better to lose one part of your body, than for your whole body to be thrown into hell." (Matthew 5:29-30)
Jesus deserves our worship and obedience, not our lip service and excuses.
Uncovering my sin gives me a New Start
"Create in me a clean heart, O God. Renew a loyal spirit within me. 11 Do not banish me from your presence, and don't take your Holy Spirit from me. 12 Restore to me the joy of your salvation, and make me willing to obey you.14 Forgive me for shedding blood, O God who saves; then I will joyfully sing of your forgiveness. 15 Unseal my lips, O Lord, that my mouth may praise you. 17 The sacrifice you desire is a broken spirit. You will not reject a broken and repentant heart, O God. Psalm 51:10-15
When David uncovered His sin, he experienced the freedom that comes from forgiveness and grace.
God created you to be free and to be filled with love that comes from Him, and to live with a godly confidence that comes from knowing God and being connected with Him.
Many sorrows come to the wicked, but unfailing love surrounds those who trust the Lord. (Psalm 32:10)
God sent his Son into the world not to judge the world, but to save the world through Him. (John 3:17)
God doesn't want to judge you. He wants to save you! He wants to forgive you and love you. He wants to restore you and bless you.