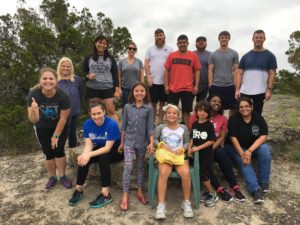 Many times, when God did something big in the Bible, it happened on a mountain. Even the cross of Jesus was set on Mount Calvary, which inspired me to lead our team to a local mountain.
This morning, our team hiked up Lookout Mountain in Wimberley in order to pause and prepare for a busy week as we approach Easter Weekend. When we reached the summit, I shared a few leadership thoughts that can help each of us make a greater impact.
The difficulty of the journey makes the destination more joyful.
Not everyone is willing to do what it takes. Our enjoyment is in direct proportion with how hard it is to attain the victory. Climbing takes effort, but it's when we overcome and stick to it, that we can see that all of our hard work was worth it. Those who make the climb get to experience the results.
Make sure to notice the beauty around you.
You can see farther and clearer at the top of the mountain. At the top of Lookout Mountain in Wimberley, you are at an elevation of 1,182 feet, where you can see the whole valley below. Leadership is messy. Sometimes you can get caught up in seeing the struggle and forget to recognize the beauty that surrounds you. It's there if you will stop and look.
Everyone climbs at their own pace.
It's okay to travel at different speeds. Some team members are more driven, while others are more deliberate. But, as a team, we make the journey together. It's better, safer, easier, and more fun when we climb together.
You can go higher than you realize.
When you take one step at a time, you'll be surprised at how far you'll go. Consistency is the key! Our mountain today was only 220 steps to the top, but every step took us higher than before. No matter how far you've come, you can keep climbing farther than you ever thought possible.
Celebrate and enjoy the victory of getting to the top!!!
Many teams make the mistake of never stopping to celebrate the wins, but instead are just pushing for the next peak. As a team, we make sure to focus in on the victories we experience every week. This helps us stay motivated and remember the reason we climb in the first place. For our team, it's all about the stories we hear of changed lives.