We are excited to become One Church in Two Locations with the addition of a brand new campus in San Marcos. As the seat of Hays County, San Marcos is an incredible mission field with 55,000 residents and an additional 6700 students living in the Texas State dorms. 57% of those living in San Marcos have absolutely no church connection! Normally, this would be discouraging, but for us, it's motivating! We can't wait to see even more life-change happen as we go on this journey together!
God has opened every door for us to move forward with CrossRoad Christian Fellowship desiring to become a vital part of our mission. The faithful members of that church will join us in the launch of this new campus. Pastor Chance Endsley, whose passion is contagious, will be the campus pastor. We will have the same kind of energetic and inspiring worship, caring KonnectionKidz ministries, and a mix of video messages from our Buda campus and occasional live teaching.
It's so great to hear the positive responses we've already received from both locations of people who are ready and willing to step up and help make this dream a reality!
VISION NIGHT
Vision Night for Connection Church San Marcos is happening on July 19th at 7pm. If you're interested in finding out more about the big vision we have for our second campus and how you can be involved in this exciting launch, you're invited to join us at the San Marcos campus (424 Broadway St). Kids are welcome but childcare will not be provided. If you're planning on coming, please RSVP.
AWE-SUMMER OFFERING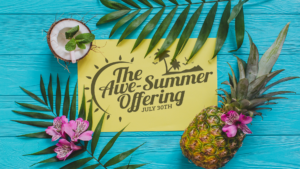 Awesome is the best word we know to describe what is happening! We always want to create experiences that give people the best opportunity to connect with Jesus. In order to transform the existing church campus into The Connection Church experience, we will need to do a lot of work, both inside and out. We are always trusting God to provide all the resources needed, and the way He does that is through the people who call The Connection Church their home and who have a heart to see lives changed. The Awe-Summer Offering will fund the campus makeover and start of the next level of ministry to those in San Marcos! Together, our sacrificial over and above giving will make more life-change possible! Of course, you can give online now by using the keyword SUMMER. Our BIG DAY of giving over-and-above to this offering is Sunday, July 30th. We can all do something to make the campus makeover and launch a huge success!
CAMPUS MAKEOVER
The work will begin soon with most of the improvements happening through the month of August. We will keep you in the know about how you can help by serving to do campus clean-up, paint, floors, and more.
CAMPUS PRE-LAUNCH
On September 10th, we'll begin aligning our message series with I Love the 90's for a "soft launch." We want to make sure we have tested our systems before our official launch.
CAMPUS LAUNCH
October 8th is the BIG DAY! We will officially launch Connection Church San Marcos with a brand new fun message series called Costume Party all about our identity in Christ. The planned service times in San Marcos will be Sundays at 9:30am and 11am.
We're believing God is going "to do immeasurably more than all we ask or imagine," (Ephesians 3:20) as we follow Him through this open door He has placed before us. Whether or not you're going to attend in San Marcos, everyone can do something. Let us know how you're going to be a part of this next step. Thanks for Making the Connection!